Updated 02.10.2022
As we head into the third year of this pandemic, the types of COVID tests available have increased exponentially. While initial testing relied solely on molecular PCR testing, current testing includes a variety of tests with different purposes, accuracy, and result times.
In this article, we will guide you on how to choose the right test for your personal situation. Once you know which test to take, naturally you'll want to know how to get it, how reliable it is, and how it works. We'll guide you through all of that, too.
This article is divided into three sections:
How to Choose the Right Test
In order to select the correct test for your particular situation, ask yourself which of these applies to you. (You can select one of these options to jump to its section.)
Testing for Travel
Since our patients are in the United States, here we refer to travel within, to, and from the US.
International Travel
Every country has clear requirements for travelers from the United States. The CDC has a list of all countries sorted by COVID risk level. Select your destination country and carefully read all information. There will be additional links that guide you to view all requirements, including testing requirements, documentation, vaccination status, etc. Don't forget about any other countries where you may transfer or have layovers!
Your destination country will likely require a negative test before your trip. Typically, this is regardless of vaccination status. Note the timeframe required for the test, as some require that you show a negative test taken within 24 hours of your departure.
Note that all tests for travel from the United States must be administered by a CLIA-certified laboratory.
Make a testing plan in advance of your trip. There are two types of diagnostic tests: molecular and antigen. Most countries require a molecular test, but many accept an antigen test. Read more about the differences between molecular and antigen tests. 
If you need a molecular (PCR) test for your trip and are in the SF Bay Area, use CityHealth's COVID testing scheduler. CityHealth also has rapid molecular tests available at Long Beach Airport and Oakland Airport. These results come back within two hours. Regular PCR test results from CityHealth take between 24-36 hours.
If your destination country accepts a rapid antigen test, you can use the Rapid Return while in the United States. This test is done at home via telemedicine, so you receive a digital certified copy of your negative test to bring to the airport with you.
Testing Checklist: Before leaving the United States 
Please note that this checklist is not a comprehensive travel checklist. It only covers testing. Make sure to read about your destination country's current restrictions and regulations.
Returning to the United States: Before your return to the US, you must show proof of a negative COVID test within 24 hours of departure. This is for everyone ages 2 and up, whether or not you are fully vaccinated. Read about the CDC travel requirements here.
Due to this 24 hour window, you will have to take a rapid molecular or antigen test. Molecular PCR test results typically aren't available within 24 hours.
The easiest way to test before returning to the United States is with a Rapid Return test. Order this test before your trip and pack it in your bag while you travel internationally. Within 24 hours of your flight back to the US, you can take this test without having to go to a clinic or testing location.
When you are ready to take the test, go to the CityHealth website (or scan the QR code on the test kit) and begin the testing process. A medical provider will video chat with you to verify your identity, the test, and your results.
Once you have a test result from the Rapid Return, you will receive a Digital Health Certificate to show the airline when you travel. This is much easier than figuring out where to get tested while in a different country, or worrying about getting results in time. With the Rapid Return test, you'll have certified results in 20 minutes.
If you're wondering how the Rapid Return test works, take a look at this video from CityHealth:
https://www.youtube.com/watch?v=tIuP6_bHecg
Complete Guide for the Rapid Return Test for International Travel
Returning to the US after International Travel
Domestic Travel
When traveling between airports in the United States, you are federally required to wear a mask at all times. Other than masking, there are very few restrictions in place. The majority of states recommend a mix of testing, vaccination, and/or quarantine. However, few states mandate or enforce these rules.
Ballotpedia has up to date information regarding domestic travel and each state's regulations, including historical regulations since the beginning of the pandemic.
Currently, Kansas and Hawaii are the only states with travel restrictions in place. Kansas has quarantine requirements while Hawaii has rules regarding testing, vaccination, and quarantine.
When traveling to Hawaii, you must either have proof of vaccination or a negative COVID test. Either way, these records must be uploaded to the Safe Travels platform.
When testing before your trip to Hawaii, you must take a NAAT test (molecular test) through a CLIA laboratory. CityHealth offers two molecular tests that meet Hawaii's requirements: Molecular PCR and Rapid Molecular. CityHealth is a Trusted Testing Partner with the state of Hawaii.
Schedule your COVID test within 72 hours of your trip to Hawaii.
Order a Hawaii Test Kit that is shipped to your home and dropped off at a testing facility 
How to Travel to Hawaii with Kids in 2021
Testing After COVID-19 Exposure
If you had close contact with someone who tested positive for COVID, then there are testing and isolation guidelines you need to follow. Close contact is defined as within 6 feet for a total of 15 minutes or more. You may have been informed of this contact by the person directly, or from your school or workplace.
Since the guidelines are always changing, view the most up to date information from the CDC for what to do after COVID exposure.
How long after exposure to COVID should I get tested?
As soon as you know that you were exposed, mark the day of exposure as day zero. On day five, and no later than day 10, take a COVID test.
If you do not have symptoms, you still need to test on at least day 5.
If you have symptoms, get tested as soon as possible, even if this is before the fifth day after exposure. Isolate yourself until you get your test results back.
Which test should I take after exposure?
Federal and local health authorities generally recommend taking any viral test when testing for possible infection. (Viral tests include molecular or antigen tests, not antibody tests.) So, take whatever viral test is available to you five days after exposure.
But if you have a choice, the molecular PCR test is the gold standard. This is the most sensitive test available and therefore the most reliable. PCR tests are sent to a lab and can take a few days to get results. If you are ok waiting for results due to increased accuracy, then take the PCR test.
If you need results right away, opt for a rapid test. There are different types of rapid tests, each with varying availability and accuracy.
Rapid antigen tests are available over the counter, online, and at testing facilities. They take about 15 minutes and are less sensitive than molecular tests.
Rapid NAAT tests are molecular tests that are typically not sent to a lab. You get results within an hour or two. Rapid NAAT tests are less reliable than molecular PCR tests, but more reliable than rapid antigen tests. (There are multiple types of rapid NAAT tests, and they are all molecular tests with varying degrees of sensitivity and reliability.)
Description and comparison of the most common COVID tests available.
What test should I take when I need to show a negative result before going back to school or work, or before attending an event?
First, find out if there is a time period in which you must take the test. For example, a venue may require a negative test taken within 48 hours of the event. This will help you figure out which test to take.
If you have 72 hours or more, take a molecular PCR test. Results generally arrive within 72 hours, but can be delayed due to current demand, weekend days, and holidays.
To get results more quickly, take a rapid test. Schedule your test at a testing center in order to verify the results and show proof of the negative test. The tests available to you vary by location and current demand. Take whatever you can get in time to show proof of a negative result.
Do not take an at-home rapid antigen test, as there is no way to verify and prove your negative result.
What do I do if the test comes back positive?
The first thing you'll do is stay home and quarantine. This of course means that you won't attend that event, or go to school or your workplace.
Contact your school, work, and close contacts to tell them about your positive result. Tell anyone you had close contact with during the previous ten days. (Close contact = within 6 feet for at least 15 minutes.)
Follow CDC guidelines to calculate your quarantine procedure. These guidelines do evolve, so please visit this page for the latest recommendations. It has an excellent visual guide about what to do if you're fully vaccinated, if you have symptoms, when to isolate in different situations, etc.
Testing at Home
There are several reasons why you may want to take a rapid antigen test at home. You may or may not even have COVID symptoms. Perhaps you're simply being cautious. There are also schools, workplaces, and facilities that regularly test everyone with rapid antigen tests.
Rapid antigen tests are less sensitive than PCR tests, meaning that you need to have a higher viral load to be positive. So, false negatives are more common. However, if they are used frequently in appropriate settings, they are excellent for screening.
Rapid antigen tests detect multiple cases even when no symptoms are present. They are intended to slow the spread of COVID. Frequent testing catches positive cases earlier, which leads to a lower chance of infecting those around you.
If you were in a high-risk area or think that you may have been exposed, you can take a rapid antigen test five days after the event. Do not rely solely on a negative rapid antigen test when you know you have been exposed, or after leaving an area with a high infection rate.
You could schedule a PCR test, but those appointments should be reserved for people with a known exposure. Keep in mind the current demand for testing in your area and be as safe as possible for 10 days after potential exposure.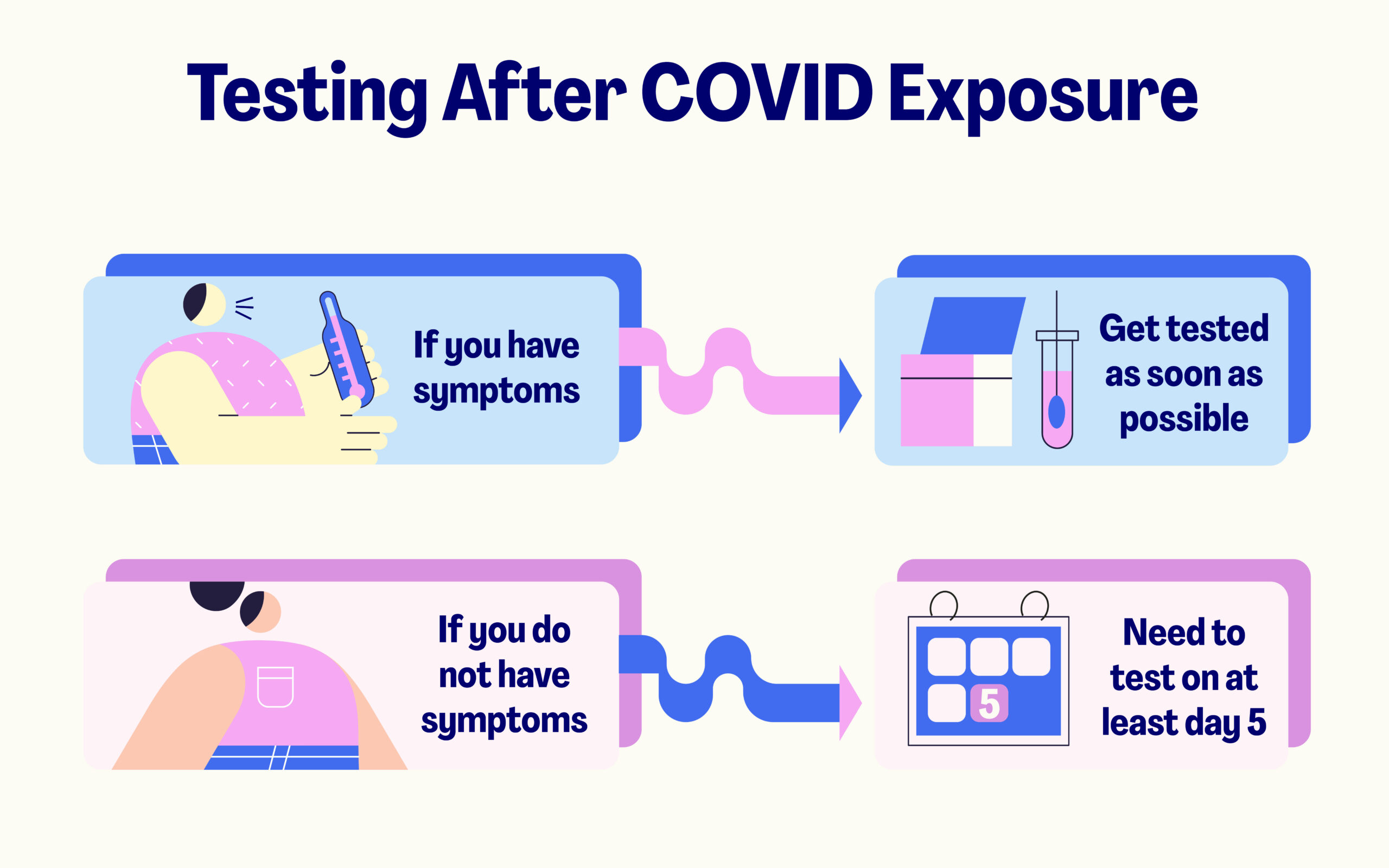 If you test negative with a rapid antigen test, continue to wear your mask when in public indoor settings. Keep in mind that false negative results do happen, especially when symptoms haven't developed yet and the viral load is low. Never assume that your negative test is 100% accurate. Continue to be as cautious as you were before taking the test.
Test three days later. At-home rapid antigen tests come with two tests per box. That's because of the possibility of a false negative. You could easily have COVID, but with a low viral load that isn't yet detected with the first test. Take that second test a few days after the first test to verify your result. Try to be as safe as possible between the two tests to further verify your negative status.
If you test positive with an at-home test, then assume you're positive. This is true whether or not you have symptoms. False positives are extremely rare, so there is no need to verify your positive result with a PCR test. Follow the current CDC guidelines for what to do next.
Report the positive test to your local health authority. Some areas have a self-reporting feature online, while others require a phone call. You can also contact your physician who may be able to report for you. This reporting is crucial to maintaining accurate case counts in your area.
If you have symptoms and tested negative, do not assume that you are truly negative for COVID. Schedule a test at a facility to verify the results, ideally with a PCR test as that is much more sensitive than antigen testing. Isolate yourself while waiting for the results.
Testing if you have COVID-19 Symptoms
If you have symptoms of COVID (any combination of fever, fatigue, loss of taste/smell, coughing, headache, sore throat, congestion, nausea), then you should test. Assume you have COVID and isolate yourself until your test results come back.
If you can take an at-home test, do so as soon as possible.
If that test is positive, then assume that you have COVID. False positives are extremely rare. Do not schedule a molecular test, since there is no need to do so.
If the test is negative, schedule a molecular test as soon as possible to verify the results. Continue to isolate before and after your appointment, until you get your results back.
If you don't have an at-home test readily available, schedule a molecular test for the first available appointment.
If you have COVID, follow the rules from the CDC for next steps. Keep in mind any local health authority regulations, or other rules that apply to you (such as school or work).
Testing After Positive COVID Test
If you have or had COVID, you will continue to have a positive PCR test result for up to 90 days. This only means that the RNA from the virus is still present, but you are not contagious. There is no reason to test until after that 90 day period.
Since this is a commonly known phenomenon, there is a 90 day grace period after a positive test. So, if you are required to show a negative test for any reason, you should be able to show that you were positive within the last 90 days to exempt yourself from testing.
How Each COVID-19 Test Works
In this section, we'll get a bit more technical about how the tests actually work.
Jump to a specific type of test:
Rapid Return Tests for International Travel
Viral vs Antibody Tests
There are two types of COVID tests: viral tests and antibody tests. Throughout this article we have only referred to viral tests, as these test for COVID-19 infection.
Viral tests are diagnostic – they tell you if you have COVID or not. When you are tested for COVID, no matter the test, you're getting a viral test. Most of these tests are done with a nasal swab, although some PCR tests use a saliva sample.
Antibody tests look for antibodies against COVID. They are not used to check for active infection, as they are only accurate several days or weeks after infection. If you have antibodies, you either had COVID or were vaccinated. There is no reason to get an antibody test unless indicated by your medical provider. Antibody tests are run using a blood sample.
So let's break down the types of viral tests. There are two types of viral tests: molecular (NAAT) tests and antigen tests.
Molecular Tests, also known as NAAT Tests
Molecular tests are technically called NAAT tests. NAAT stands for Nucleic Acid Amplification Test. These tests make copies of the genetic material (RNA) found inside the virus.
So, if there is no virus present in your sample, then no copies are made. This would be a negative test. But, if there is a virus in your sample, copies are made. That would be a positive test.
Molecular tests are extremely sensitive and specific. Even a tiny amount of virus can be duplicated up to a billion times.
RT-PCR Tests
RT-PCR is a type of molecular test and stands for Reverse Transcription Polymerase Chain Reaction. For simplicity, and to match what you've read and heard elsewhere, we'll simply call it a PCR test. PCR tests are the gold standard of all COVID-19 testing.
These tests are the most commonly used to test for COVID in clinical settings. When you make an appointment for a COVID test, or when you take one at a medical office, you are most likely taking a PCR molecular test.
Since this test is a type of molecular test, it works just as we described above – by copying RNA from the virus in the sample. These are the most sensitive of all molecular tests, so false positives are extremely rare. If you have virus in your upper airway, PCR tests are the most likely to catch it.
PCR tests are sent to a lab, so it can take up to 72 hours (sometimes longer, depending on demand) to get your results back. There are fortunately some labs that take a fast turnaround time, such as CityHealth with a turnaround time of less than 48 hours.
In some areas, there are rapid or expedited molecular PCR tests available. These cost a little extra and produce results within hours or less than a day.
Schedule a molecular PCR test in the Bay Area
Rapid Molecular Tests
If you see a test labeled "rapid molecular test" that doesn't mention PCR, then this is another type of molecular (NAAT) test that uses a method called isothermal amplification. This is less sensitive than PCR tests, but the turnaround time is very fast, usually less than an hour.
You can schedule a rapid molecular test at several locations nationwide, and this number continues to grow as more tests are developed. Rapid molecular tests are less reliable than PCR, but more reliable than antigen tests.
PCR > Rapid Molecular > Rapid Antigen
Find a rapid molecular test near you:
Rapid molecular test in California
HHS tool for finding community-based testing sites
Your state or local health authority website should have testing locations as well.
More about NAAT/molecular tests:
COVID-19 Real Time Learning Network – About NAAT
Mayo Clinic: Covid-19 Diagnostic Testing
Rapid Antigen Tests
While molecular tests look for the genetic material inside the virus, antigen tests look for specific proteins on the outside of the virus.
A detailed guide to antigen tests.
When you hear "antigen test" or "rapid antigen test," they are the same thing. Antigen tests are naturally very rapid, so adding "rapid" to the beginning just reinforces for you how fast it is! They don't need to be sent to a lab like molecular tests. Rapid antigen tests are the least sensitive of all COVID tests, but there are several benefits.
Benefits to Rapid Antigen Testing
Rapid antigen tests provide results in less than an hour. If you are testing at home, you will typically get a result in 15 minutes. If testing at a testing location, you will likely get a result in less than an hour.
Rapid antigen tests are more affordable, portable, and accessible. During high demand, it can be difficult to find tests to purchase. Generally this is getting better, and once you do find them they are less expensive than other tests. Plus, the federal government recently authorized free at-home tests to be shipped to every household that requests them. Over time, rapid tests are becoming increasingly more affordable and easier to obtain.
Rapid antigen tests rarely produce false positives. While false negatives can be common, false positives are very rare. All COVID tests are very specific, meaning that they correctly identify people who don't have the disease. This means that the rate of false positives is very low.
Guide to specificity vs sensitivity by BMJ
Rapid antigen tests are valuable screening tools. You may see this in your own life – in school, at work, at airports, and nursing homes. They screen for COVID in a population.
Rapid antigen tests can show positive results even when no symptoms are present. Those individuals are then quarantined, and anyone who was exposed to that person is then monitored.
There are rapid antigen tests for international travel. When traveling to the United States, including when traveling back from an international trip, you need to have a negative COVID test. Instead of finding a clinic in the country you're in, you can instead pack a Rapid Return Test before you leave the US.
The Rapid Return Test uses telemedicine to verify the test and your results. It's the exact same as any other rapid antigen test, but with verified results from a medical provider. When the test is complete, you receive a Digital Health Certificate to show your airline. Here is how the test works, including a full demo.
Your Other Questions About COVID Testing
How often should you get tested for COVID?
Only test for COVID if:
You have symptoms
You have a known COVID exposure
Traveling to and from the United States
Traveling to Hawaii
Entering a high-risk area
You need to show a negative result (to work, school, venue, etc.)
How common are false negative COVID tests?
False negative tests are more common with antigen tests than with molecular tests. For both tests, false negatives are most likely when there are no COVID symptoms.
Rapid antigen tests have a false negative test rate between 3% all the way to 60% – this huge range depends on several factors:
If you have symptoms, there is a low chance of a false negative during the first few days of symptoms.
If you have symptoms, but your symptoms started several days ago, there is a higher chance of a false negative.
If you do not have any symptoms, there is a higher chance of a false negative.
The brand of test matters. Some brands have a high false negative rate, while others are more reliable.
COVID variants, such as Delta and Omicron, may alter the false positive rate. Research is ongoing about the specific rate of false positives.
Molecular tests also have a huge range of false negative testing rates, with reports from 0% to 50%, again depending on presence of symptoms and viral load. However, the rate is still lower than antigen tests and therefore is more reliable.
Either way, tests are generally more accurate when symptoms are present.
Since there is such a high rate of false negative antigen tests, you need to take a second at-home rapid antigen test three days after the first test. That's why at-home test kits come with two tests in the package.
How common are false positives?
Very rare. In both molecular and antigen tests, false positives occur less than 1% of the time. If you have a positive test, assume that you have COVID. This is especially true if you have symptoms.
What do I do if I test positive?
After you test positive for COVID, there is no reason to verify the results. False positives are rare. Since federal, state, and local regulations change so frequently, you will need to check the most up to date information about what to do if you test positive. The CDC has a guide regarding quarantine to get you started.
Why are my COVID results taking so long?
PCR tests can take several days to return, due to the fact that they are processed in a lab. Some PCR tests are run at the point of care, meaning at the clinic where you test.
Either way, a special machine is used to run the test, which takes time. If the test is run at the point of care, you will get results within hours. If the test is sent to a lab, it can take days. Results are further delayed when demand is higher – the more people taking the tests, the busier labs get while processing all of those tests.
We hope that we answered all your questions about COVID testing. It's an ever-changing topic, so we do update this article as often as possible. Test types, accuracy, availability, regulations, and research are constantly changing and we want to make sure that this resource stays as up to date as possible.
Thank you for reading!